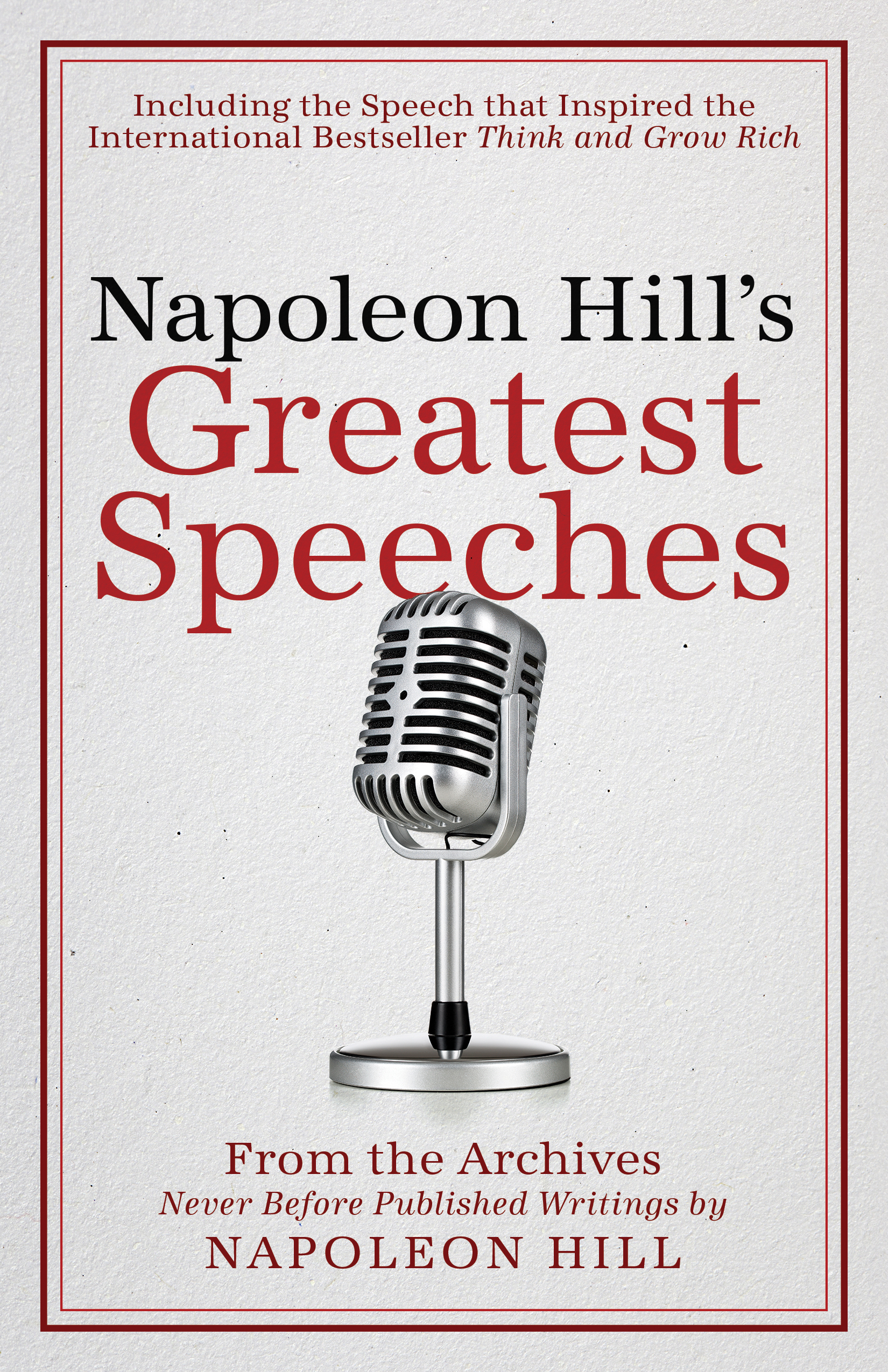 Napoleon Hill's Greatest Speeches
napoleon hill's greatest speeches
We are pleased to present this never before published collection from the one and only, Napoleon Hill. Along with other never before published material, this volume includes the speech that inspired the worldwide bestseller Think and Grow Rich.

With a foreword by Napoleon's grandson Dr. J.B. Hill and introductory comments by Don Green, Director of The Napoleon Hill Foundation, personal letters from family members and Senator Jennings Randolph, this fascinating exploration of the speeches given by the pioneer of the personal development movement is packed with a wealth of information.

It is a revealing look at one man's quest for understanding why some men succeed, why others do not, and what makes success something that can be replicated. This collection will provide you with some of Napoleon's finest speeches including: What I Have Learned From Analyzing 10,000 People; The Man Who Has Had no Chance; The Commencement Address at Salem College in Salem, West Virginia, 1922—likely his best-remembered and most influential speech.

Napoleon Hill dedicated much of his life to solving what he called "the most stupendous problem confronting the human race today." That is, "How can I get what I want?" As W. Clement Stone and thousands of others can attest, Hill succeeded in this venture, and we now have a success philosophy that Andrew Carnegie once saw as a possibility.

The pages within this book will tell you of the origins of a personal development legacy.
napoleon hill
Napoleon Hill was born in 1883 in a one-room cabin on the Pound River in Wise County, Virginia. He began his writing career at age 13 as a "mountain reporter" for small town newspapers and went on to become America's most beloved motivational author. Hill passed away in November 1970 after a long and successful career writing, teaching, and lecturing about the principles of success. Dr. Hill's work stands as a monument to individual achievement and is the cornerstone of modern motivation. His book, Think and Grow Rich, is the all-time bestseller in the field. Hill established the Foundation as a nonprofit educational institution whose mission is to perpetuate his philosophy of leadership, self-motivation, and individual achievement. His books, audio cassettes, videotapes, and other motivational products are made available to you as a service of the Foundation so that you may build your own library of personal achievement materials...and help you acquire financial wealth and the true riches of life.