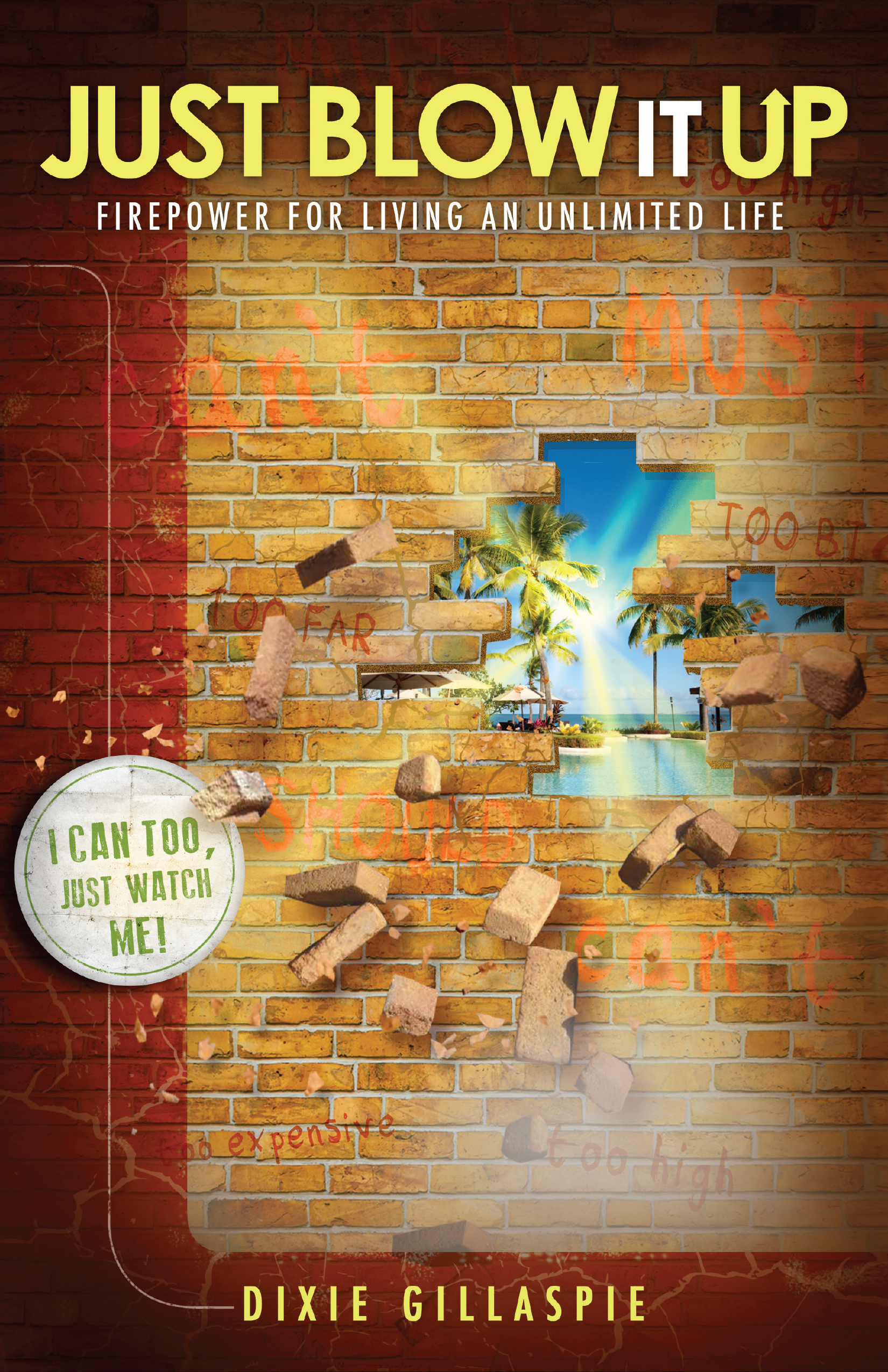 just blow it up
"Who knew tearing something down could be so elegant - Just Blow It Up! is a blast!"
-John Jantsch, Author of Duct Tape Marketing and The Commitment Engine

"Dixie communicates clearly and powerfully the wisdom we all need to succeed."
- Mark Sanborn – best-selling author of The Fred Factor and You Don't Need a Title to be a Leader

"Just Blow It Up! Firepower for Living an Unlimited Life will leave you aspiring to be Dixie's brand of super hero!"
- Frank McKinney 5x bestselling author, including The Tap

"Just Blow It Up could be the catalyst you need to make your big goals a reality!"
-Mitch Matthews, BIG Dream Gathering co-founder and Author of IGNITE - A little book to spark your big dreams.

"Get ready to explode whatever's in your way; the result being a richer, happier and more fulfilling life! In this book - you have an amazing teacher who will take you by the hand and help you to do it, step-by-step."
-Bob Burg, coauthor of The Go-Giver and author of Endless Referrals

Just Blow it Up; Firepower for Living an Unlimited Life will provide the reader with:
A dependable, repeatable process for eliminating barriers
Authentic life-expanding tools while demolishing cliches
How to recognize the symptoms, causes, and types of brick walls
How to pursue a life where "nothing is impossible"
Ways to refuse the bricks life offers and reclaim their power

Pulling together her experiences from years of coaching entrepreneurs and consulting in hundreds of small businesses across America, along with stories shared with her by mentors and teachers such as Richard Bach, Bob Burg, Mitch Matthews and John David Mann, Dixie builds a credible case for taking on the "impossible" dream and blowing up any barrier that stands in the way.

Just Blow It Up gives a step-by-step process for challenging those barriers, weakening those walls, and finally applying the "real dynamite" and powering right on through.
dixie gillaspie
Dixie Gillaspie has been called a muse, a firestarter, and a blast through artist, but most people who know her just call her "Dynamite," a nickname she acquired in the second grade.

She is the author of Just Blow it Up - Firepower for Living an Unlimited Life and a companion book, Doses of Dynamite - Firepower for Capturing the Inspiration in Everyday Things. She is also a contributing author, along with Dr. Christian Guenette, Gillian Laura Roberts, Dr. Bernie Seigal, and others, to The Thought That Changed My Life Forever.

Her success stories have been featured in books such as Go-Givers Sell More, by Bob Burg and John David Mann, and The Referral Engine, by John Jantsch of Duct Tape Marketing.

In her words, she has been a coach, business consultant and analyst, a change agent, and a general trouble-shooter to entrepreneurs and business leaders for more years than she is willing to admit. (But she'll probably tell you if you ask nice.)